We Help
Our Customers Succeed
This is not just our slogan, but a corporate standard.
Everything we do is in pursuit of superior customer service. To better understand and assist our customers, we have established service teams of trained product specialists and support staff who are courteous and professional, and take advantage of every opportunity to help with any pipe, valve, and fitting application that our clients may run into.
We believe that progressive attitudes and a corporate learning environment result in improvements in customer service. Our workforce remains business literate and empowered. They feel that they have a career, not just a job; as a result, they have a say in the effective operation of the business. What that means to our customers is that staff are always hunting down ways to simplify processes, eliminate problems, and troubleshoot for our customers. Most importantly, their high level of professionalism means that our teams can make decisions quickly, even deviating from standard services if they solve our customers' challenges.
At Howell Pipe & Supply we welcome electronic fund transfer payments so that you can eliminate the manual processing of cheques. Payment by American Express, MasterCard and Visa procurement cards offers you such benefits as convenience, lower administrative costs, easier reconciliation of invoices, and individual pre-authorized buying levels.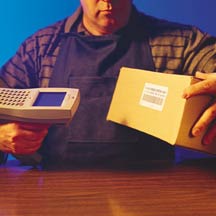 Howell Pipe & Supply has been implementing a bar code inventory program since 1995 in a step by step process. In 1995, we began shipping product, to our customers, with bar codes containing Item Part Numbers, Vendor Name and Customer Purchase Order information to make receiving easier and reduce the chance of errors. Since that time, with the help of our in-house programming expertise and outside Value Added Suppliers, we have integrated bar coding into our inventory control program. From the receiving of, to the shipping of product, we have realized the benefits and the cost saving associated with bar coding. We offer our expertise to you to help reduce your cost of doing business with Howell.
Custom Reports
You can choose from a wide variety of informative custom reports that we can provide, all of which are intended to suggest better practices for our customers. Our reports can help you increase efficiencies, plan your schedules better, manage your inventory, and cut costs.
Kitting
If you have repeat orders of supplies, we can box all the materials you need to do a job. These kits are convenient for you to order and to use, with everything gathered together for you. We're so dedicated to meeting our customers' specific needs, that even if your requirements seem unattainable, just ask us. We may have already been there.
Automated Fax Order Acknowledgements
We offer same-day acknowledgement of your faxed order, letting you know at once what we have in stock, whether anything is back ordered, and the approximate date you'll receive it.
Mill Test Reports
We maintain a database of test reports on almost every relevant product we carry, and have carried. If you need a report, we can provide it.
Vast Inventory
Howell has an extensive inventory of pipe, valves, fittings, instrumentation,steam traps and accessory products available in almost any configuration to meet your most rigorous requirements. Our strategic international partnerships and memberships in key marketing and distribution associations give our customers access to a vast array of products, services, and solutions.
Service-orientated Information Systems
Our superior customer service is supported by our in-house information systems team, which can quickly customize our processes and systems to serve the needs of each individual client. You don't have to change your system for us. From ordering, through the inventory management process, to billing, we can accomodate your preferences.
History of Success
Howell Pipe & Supply in Georgetown and Whitby are wholy owned divisions of Howell Plumbing Supplies DASCO Limited, an established Canadian company, independently owned and operated, with a proven track record of success going back to it's formation in 1958. Our primary operation is located in Georgetown, Ontario, with a secondary operation located in Whitby, Ontario, giving us centralized access to all of southern Ontario. Our proximity to Lester B. Pearson International Airport lets us offer swift delivery of inbound and outgoing shipments throughout North America and the world.